The
Road of Lost Innocence
is the biography of a woman who was sold as a Cambodian sex slave. Her experiences are beyond awful, yet, there is a power to her story. Once she was able to escape that horrid life she turned her efforts into freeing other young girls. This is a book that is hard to put down, and yet I almost had to take breaks from it - it was just too much. I can only stomach so much rape and fear and betrayal at a time. As tragic as it all is, there is power and redemption throughout her story.
May's Book Club was this 1960s Russian novel which follows a man through a day in the Soviet Gulag. Through a series of flashbacks you learn Ivan's personal story and how his experience tells the greater story of life under Stalin's Russia. This book is certainly strong and insightful, but I would recommend
Journey Into the Whirlwind
as an even more compelling read on life under Stalin. (
Whirlwind
is an incredibly powerful non-fiction story about a woman sent to a Siberian camp.)
Our book club is also reading
The Miraculous Journey of Edward Tulane
as a fun book to read with your kids over the summer. For some reason, my boys were not in the least interested, but I still liked it. While it's a short book that kids can read on their own, it still held my attention. In the same vein as the
Velveteen Rabbit
, Edward Tulane is forced into various circumstances that teach him what is means to love and be loved.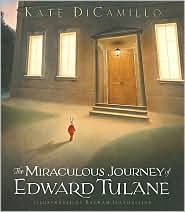 When I asked my friend Becky for a light "beach read", she suggested
Undomestic Goddess
. The title alone made me love it, and when I unexpectedly discovered that it was by Sophie Kinsella, author of the
Shopaholic
series, I knew it would be perfect. I think
Undomestic Goddess
is actually my favorite of Kinsella's books. While I totally enjoyed the
Shopaholic
books, the main character kinda bugged me. Not so in
Undomestic Goddess
. The story is about a high-powered attorney who, quite accidentally, made a multi-million error. She freaks out and finds herself in the countryside where she impersonates a domestic servant. It's cute, funny, and the perfect vacation read.
My sister recommended
The Nannies
for my vacation. This is a youth series about three teenagers who become nannies to the super rich/famous in LA. It was an easy, light read. However, if you are looking for a great book about being a nanny that will make you both laugh and cry, then read
The Nanny Diaries
. (It was made into a movie a few years back, but even if you saw the movie, the book is still worth your time.)
Our family is heading to Florida in just a few weeks, and I need some more "mind candy" books for the trip. Any suggestions?