Hotel on the Corner of Bitter and Sweet
is great read. This historical fiction follows the experiences of a Chinese boy and a Japanese girl living in Seattle during WWII. The young girl winds up in an internment camp and the Chinese boy struggles to get his father to understand how he could love someone Japanese. While the context of the story is harsh, it is fundamentally a love story; thus the title
Bitter and Sweet.
I really liked this book.
While I never saw the movie,
Slumdog Millionaire
is a fabulous book. Both tragic and hopeful,
Slumdog
tells the story of an impoverished young man who wins the million dollar prize on India's version of
Who Wants to be a Millionaire
. In explaining how he knew each answer, Jamal tells stories from his fascinating life. It's a great, compelling read.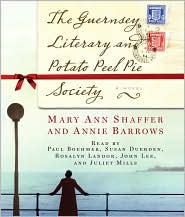 The structure of
The Guernesy Literary and Potato Peel Pie Society
is interesting - you are reading the letters between all of the main characters. This historical fiction tells the story of a little British island that was occupied by the Germans in WWII. It's an interesting story of a small town caught in a hard time.

Battle Royale
I couldn't even finish. When I began reading it, it was because it was supposed to be the Japanese version of
Huger Games
, which I LOVED. And, yes, it's about a group a teens stuck on an island, forced to fight to the death. Thing is, there was SO much more gore. The human element of it all was interesting, but after reading about the sound and axe makes when being pulled out of a person's brain, I had to stop.
Super funny, but more than a tad crass,
Wishful Drinking
is the biography of Star Wars' Carrie Fisher. Fisher tells about her rise to fame, drug use, marriage to Paul Simon, and struggles with 'reality'. My sister thought it was too much, but I found it all very amusing. Who knew Princess Lia had such a great sense of humor? If you happened to have enjoyed
Wishful Drinking
, try
Hypocrite in a Pouffy White Dress
. Also a bit crass, but one of the funniest books I have ever read.
Right now I'm reading
The Help
and
Big Stone Gap
. I'll let you know what I think once I'm finished.